One Wild Story
Like any good story should, this one will start at the beginning. On the south side of average throughout school. First part time job started at 12 years old as a butchers boy. Keeping the shop clean and doing deliveries on my bike. Snowy Christmases were fun delivering turkeys and having to do a second trip for all the vegetables. Second job at a ski and snowboard centre. Could already ski, chose to learn to snowboard. Got hurt lots learning. Kept at it. Was worth the hits. Qualified to teach people to snowboard. Found a passion in sharing my passion. Confidence communicating to different types of people in different ways grew. Worked as a labourer, maintenance worker and dabbled in retail for a time. Car sales was next. Great experience. Top of the company leader board in 8 months. Left in 12 months to pursue a career where I could improve other people's quality of life.
Quit work and studied full time. Loved every second of learning. Very different to the school days. As soon as I read about something to do with fitness and nutrition I'd use it practically, and then it was locked in my head. People asked if I had a photographic memory when we were learning. I just loved it. It all made sense. A 21-year-old qualified personal trainer and sports massage therapist starts a career in the fitness industry.
First job was in a small, private gym in Ascot. I was box fresh and with no support in marketing, upskilling or help in developing a client base the large number of established trainers swallowed me up like sharks. That was a lesson I wouldn't forget and a moment that would define my approach to what Wild Training would deliver for other personal trainers. The lack of support given to trainers by gyms turned out to be the rule rather than the exception. So many people qualify every year as personal trainers. 80% of people that qualify as a personal trainer quit before the end of their first year doing the job. The gyms have an endless supply of fresh trainers so staff retention isn't exactly the highest priority on their list.
My next place of work was potentially the luckiest thing that happened to me in my career, but I only realise that now. Personal trainer at Champneys. At my 3-month probation I'm made senior trainer. I was doing a good job, and Champneys taught me how to do the job better. With a massive exposure to personal training a variety of clients from 155kg with 50% body fat to elite athletes like A P McCoy. My confidence in delivering a good service grew and I was able to refine all the skills learned so far. The reason I say Champneys was one of luckiest times in my career was the freedom they gave me to study new techniques and develop my skills. I created and programmed posture correction and mobility classes that became some of our most popular classes. New qualifications and experience like running the first cryotherapy centre in the UK. Non-stop learning from experienced trainers specialising in everything from martial arts to pilates.
This ability to up skill helped me become a lot more successful, and that passion for learning and knowing how much of an impact improving my knowledge is what lead me to build a development program for personal trainers to achieve the same success. That is what Wild Training started out as... but that's me skipping ahead in the story.
Towards the end of my time at Champneys they wanted me to take on a more senior role in training the other trainers, but I wasn't done growing and knew I had more to learn from other areas in the fitness industry. My girlfriend and now wife was working at the local David Lloyd and told me there was an awesome gym manager there that I should meet. As always, she was right. I met him, thought he was awesome and someone I could learn a lot from.
Next step was obvious. Quit the safety of Champneys. Enter the shark pit of 14 established trainers all with established clients bases and all with more experience than me. If I was any good I should be ok, and I was. 4 months in I was the busiest trainer in the gym and after 6 months me and the awesome gym manager left to set up New Movement, my first business. A small personal training studio that we would make a success with a system we planned to develop in to a franchise to help other trainers progress their own careers. The success came but the franchise didn't happen. We decided to finish the partnership and my partner and his girlfriend continued to run New Movement as a great personal training business.
New Movement taught me so many lessons, as anyone will probably say about their first experience at being self-employed. I was running a lot of outdoor group exercise classes as part of the New Movement service. 8 week courses. TRX frame. Old school manilla style battling ropes. Kettlebells. Power bags. I ended up being able to set up a 10ft TRX frame on my own including unloading it from my truck in 15 minutes. That's crazy quick!

It was fun but lacked the progression and flexibility needed to get people training regularly. The other thing I was getting frustrated with as a trainer is not being able to get my clients training enough to see the results they wanted. 1 Hour a week does not work. It's less than 1% of your lifestyle. Wild Training don't sell one personal training session per week. If that's someone's budget we include a Wild Training membership so rather than 1 personal training session per week, they get 1 personal training session per week and 3 Wild Training classes. That works and that's why we do it.
So flexible, progressive, fun training built around a concept that encourages more people to do three effective workouts every week... need a name... Wild Training... need a logo... email the only guy you know that can draw properly... "Wild like it's been ripped in to a wall and a claw next to it ripping down. Training written under it. Blue."… How in the morning he sent the Wild Training logo we still use today I don't know because it was exactly what I saw in my head. Thanks Jordan. Wild Training was born.
Next step. Phone every single person in my phone book and try to book them on to a launch class. Wild Training launched in July 2010 and by the end of the year I had 40 members signed up to a direct debit enjoying 3 classes every week. The system was working. What I didn't anticipate was the rate of referrals. I'd never seen anything like it. I delivered 152 personal training session in January 2011, 6 months after starting Wild Training. That was a lot, and actually I needed to slow it down or get help. I'm not much for slowing down so get help was the only option.
Having employees sounded like a nightmare at this early stage of Wild Training, so what about adapting the franchise model I wrote for New Movement. Trainers had already been approaching me after seeing my Wild In The Park sessions and my truck. They wanted training and the opportunity to run their own Wild Training.
Interesting. Where do you start? Speak to some smart guys. Then speak to smart guys that the first smart guys told you to talk to. It's on. Got a franchise agreement. Got a plan. Got an UNREAL amount of motivation.
There is a fine line between brave and dumb and I'm sure I flirt with it daily. Went against the advice of a lot of people that I know care about me and a lot of people smarter than me because I felt like it was the right thing to do. I'm a 100% gut kind of guy. If it feels right, I'm going to hit the button with everything I've got. Most were worried I'd give away all my ideas on training and business and get left with nothing. That didn't happen.
I started small with people I thought I could trust to put the work in. I didn't charge them a lot of money because I wanted to prove the system. It worked. By the end of the year I was no longer running Wild In The Park classes and I was just managing the other trainers while delivering personal training to stay afloat.
Hannah Camden took over my Wild Training business. It was always going to take someone pretty awesome to take on my clients, and as it turns out Hannah is beyond pretty awesome. Today she is a director of Wild Training and is helping me create the future of the brand.
From 2011 when the franchise started it has been a turbo charged ride of fun, filled with challenges no one saw coming. Thanks to all of that and all the different trainers we have worked with we have built the Wild Training systems and trainer development from the ground up based on what practical skills and resources trainers need to create success and maintain a profile as a top trainer in their area.
People in the industry started to notice what we were doing, and the level of training we delivered to our franchised Wild Trainers. We got better and better at delivering the support to our trainers. Quarterly training days at Lilleshall national sports centre, video training resources, written articles and regular training workshops. Consistency started to come easier and easier and the infrastructure behind the business was getting slicker. I had a written process for everything so if I disappeared one day someone would be able to carry on running every part of the business.
Anything else interesting happen along the way. A few things.
2012 I designed and created the first vibrating barbell in the world. Imagine a power plate that you can move with. Turning something that plugs in to the mains and weights over 100kg work as a portable barbell was a trick, but we pulled it off. Got a prototype. Got a patent. Needs another £200k ish to get it to market the way I want as a complete station but then it will become a very cool high street franchise.
The ATI Barbell was an awesome bit of kit but the tri-planar system of exercise that I developed for it was incredible. Case studies with professional athletes like GB decathlete Ben Gregory. Helped him get past a nasty shoulder injury. He came 6th in the decathlon at the common wealth games in 2014. Good job.
We had been using tri-planar exercise in Wild Training systems since 2011 but I decided the training concept of using a barbell in intense 30 minute multiplanar classes using some of our most effective goal specific protocols we had ever experienced was a no brainer.
BTB Exercise started in 2012 and became the most successful group exercise series I had ever delivered. People loved the fact it was 30 minutes. They loved that it was different to anything they had done before, but most of all they loved the results. Mind blowing for a 30-minute class.
Anything else in 2012?
Yep. One of the first ever Wild Training members introduced me to Adrian James. Adrian is a hugely successful fitness model, and he had a plan. Create some top class fitness apps for people to get fit anytime anywhere with training videos and protocols that really work. He wanted to make it "Different" to the other apps. Apparently I had become the "Different kind of training" guy! We had a lot of fun creating the workouts and Adrian's apps were number ones internationally. The abs app was even number 1 when the London Olympics were on, making the Olympics app second.
Working with Adrian was an amazing experience and what I learned from him in terms of photo and video production, as well as directing models on shoots has been an incredible help in everything we have done with Wild Training.
2013 kicked off with me getting invited to the Stroops master trainer summit in Barcelona. Shon Harker invented the best slastix in the business and with the Stroops brand he created products that we introduced to Wild Training straight away. Elasticated resistance tubing housed in a safety sheaf to make sure even if the slastix snapped, the athlete would not be injured. I still have a slastix band from 2009. They are awesome. Add resistance to any movement you can imagine. I was always going to have fun with that.
Some top trainers from all across Europe came to this master summit to learn about the technical side of Stroops training and integrating it in to fitness services effectively. Better believe I learned a lot from these guys. Skip "Archimedes", Paul Bradbury, Matt Hancocks, Eugenio Santos, Gary Harker. All legends.
It was Physical Company that were kind enough to put me forward for the Stroops master summit. All of Wild Training equipment for all our trainers came from Physical Company as they offer great gear and the team that work there are ace. Wild Training and Physical Company started working more and more together.
Various Physical Company photo and video shoots went down really well. They asked me to write a CPD course for Battling Rope training. Battling ropes are a core piece of Wild Training equipment and a tool I've used in my training regularly since 2008. We also had Wild Trainers working at international exhibitions for Physical Company doing demos of equipment from the NEC to Germany.
John Halls, managing director for Physical Company, and I started having regular meetings where we would discuss grand plans for changing the landscape of the fitness industry.
First things first, equipment. Parallettes I used to make out of 40mm waste pipe from Wicks. Pictures on the right are an early production line at my in laws house! Those days had to end. With Johns help Wild Training and Physical Company designed Parallettes that would be manufactured in China. The new parallettes are perfect and have gone down so well with everyone we have trained to use them.
Below you see pictures of m and super star personal trainer Katie Bulmer Cook rocking the new parallettes at the Leisure Industry Week exhibition.
We made it official. Wild Training and Physical Company are partners and Wild Training now even feature in their glossy catalogue. John has an incredible knowledge of the fitness industry and he has been a great mentor to me throughout my Wild Journey.
In 2013 we set up the first Wild Training Studio. We had been playing with systems and class programs that just seemed like they needed a room. Stroops. Suspension systems. These things need anchors to attach to. Hannah found a studio space that for anyone else would look too small or an awkward shape, but for what we had planned it was perfect.
3.5 meters wide and 17 meters long, it was a glorified corridor, but what we were able to throw down in that space was so cool that we ended up getting loads of free PR out of it. People seemed to think the way we used it to deliver such a diverse range of classes using equipment a lot of people had never seen before was pretty cool. Hannah's Wild Training business grew and the studio became a big success.
One exercise license that came out of all this new equipment and the new studio was Fit Squared. In my head I always challenge what the best general conditioning system we have is. Whenever I do a Fit Squared workout I have no doubt it's in my top 3 workouts of all time. So good for burning fat, building strength, jacking metabolism. For me it's one of the systems I have the most fun programming as the equipment we use lets us challenge every component of fitness.
Aerobic, Anaerobic, Strength, Power, Speed. Designed around an anchored set up or to be delivered using a Fit Squared rig. The rig is a small functional training rig that will allow gyms to use the Fit Squared system for up to 20 people at a time. It stores all the kit and can be moved around. No more massive rigs taking up loads of space that don't get used properly. Fit Squared is a game changer, because it's simple to coach and its design helps get the best out of the people training.
The experience we gained from that small studio has been so valuable in setting up all our other facilities since. When people come in to a Wild Training Gym, the first thing they say is "this doesn't look like a gym". We take that as a big compliment and after we talk with people about what we deliver and why we do it the Wild way, they normally sign up as anyone can see that what Wild Training do is going to work a lot better for them than a traditional gym.
One of my favourite systems ever came in 2013. Wild Flow. I'd been practicing capoeira for a year by now. Loved it. Expressive. Powerful. Fun. No doubt it helped me more with my movement and flexibility than anything I've done. Now to make a fitness class that incorporates basic capoeira concepts that is suitable for everyone. It had to be fun.
The class is made up of 5 components. A capoeira inspired warm up. Dynamic tension training which is one system Bruce Lee rocked. Capoeira sway kicks and Cap Core, a floor based conditioning system that mixes Pilates, functional core training and capoeira all in one. Finish that lot with a fluid cool down involving lots of developmental stretching techniques and you have a class that would complement literally anyone's training routine to help strengthen, tone and stretch the whole body while getting your aerobic system working to burn a lot of fat. If I'm on holiday, I'm throwing down Wild Flow every day.
Next bit of equipment with Physical Company. The Titan Bag came in 2014. We had used every type of sandbag on the market. Power bags. Bulgarian bags. Various functional sandbag designs. Some were too big. Some weren't versatile enough for Wild Training. We just couldn't find the right bag.
So like normal, if I thought I had an idea on how to make something better, I'd make it happen. With some terrible drawings from me and a slightly better spec sheet of what I wanted our bag to be, John and the Physical Company team helped me get the Titan Bag produced. This thing was epic. Soft so super easy to coach with and for members to use with confidence. So versatile. Top loading, swing loading, unique sandbag movements, power lifts. All from one bag. That's epic. Feedback from users has been awesome ever since.
Something happened in 2014 that I didn't see coming so early. I was introduced to a couple of business veterans that had recently launched a chain of gyms. Choices Health Clubs were looking for systems and equipment that could help them deliver a more unique member experience than other gyms.
They decided I could help them and made me a director of Choices Health Clubs. At the same time, they saw what I was doing with Wild Training and thought that if it wasn't just me running every part of the business, we would be able to scale Wild Training up. At this point we had 9 franchises. The system was working and the processes and resources we had in place made replicating the franchise simple.
We did it. Choices bought 50% of Wild Training in 2014. My main goal was to learn from the two directors of Choices as they were both in their 60's and both people with business experience I definitely wanted to learn from. After investing a lot in marketing opportunities Wild Training started to get a lot bigger. Feedback was awesome and the idea of having all the support Wild Training offer but the freedom of being self-employed was something that attracted a lot of trainers.
Choices was in its early days as a business and it was too early for me to really impact the service they deliver. After buying our first Wild Training Gym in 2016 I can appreciate how much time the basic operations of a gym business take to get right when you aren't starting from scratch. Moving away from previous existing systems has to be done sensitively to keep members on side. It didn't take long for me to stop working for Choices so I could focus all my time on Wild Training. Easy decision.
2015 was when Wild Training really matured and I started to transition the business to where we are now. 9 trainers at the start of the year. 26 at the end of the year. Some amazing people but like any business, getting the right people for Wild Training is the key. We kept reinventing our recruitment process but the bottom line, finding the right skills, experience and motivation in one person is a challenge.
The plan was never to have millions of franchises. My plan was to create a team of elite trainers that would support each other and work together to achieve what no trainer could do on their own. In my mind how could one person keep up with a team of forward thinking trainers pushing together. That's exactly what we do.
In the middle of 2015 I got 30% of the Wild Training shares back from one of the Choices directors and in 2016 I got the other 20% back. Wild Training was back to being Wild Training. We decided to reduce the team down to the core trainers that made Wild Training incredible. Exciting times.
It was time to adapt the all singing all dancing franchise package in to separate licenses that would allow trainers and gyms to take on components of what has made Wild Training so successful and build those programs in to their own business to suit their own business goals. The core trainers get set up in to Wild Training Gyms with a model we have proven to showcase the best of Wild Training and help push the brand forward.
We have our plan, and most importantly we have the team to pull it off. No stopping us now.
Now we are working with education companies like The Training Room and Future Fit Training to deliver our exercise licenses to all their graduates. Gym chains in New York getting in contact with us to organise a demo weekend to showcase all of our licenses. It's gone turbo.
So many exciting partnerships. Natural Muscle Company. Salomon sportswear are supporting our trainers by delivering awesome clothing that rocks in every situation. Wild Training Holidays moving to Italy to deliver our hiking, cycling, ski and snowboard trips.
Wild Training is just getting started.
When Jump In launched in 2015, an awesome trampoline park in Slough, they showed us the demand was there but no effective exercise license was available for the trampoline centres to use. Wild Jump kicked off in 2015 as the first Trampoline park group exercise license was available. 3 different programs. Brand new programming every two months. Mixing rebound conditioning with functional training equipment. Awesome. Feedback from the classes has been amazing and now we are talking with some of the biggest trampoline park operators about taking on Wild Jump to improve their attendance and retention of people using their facilities to get fit.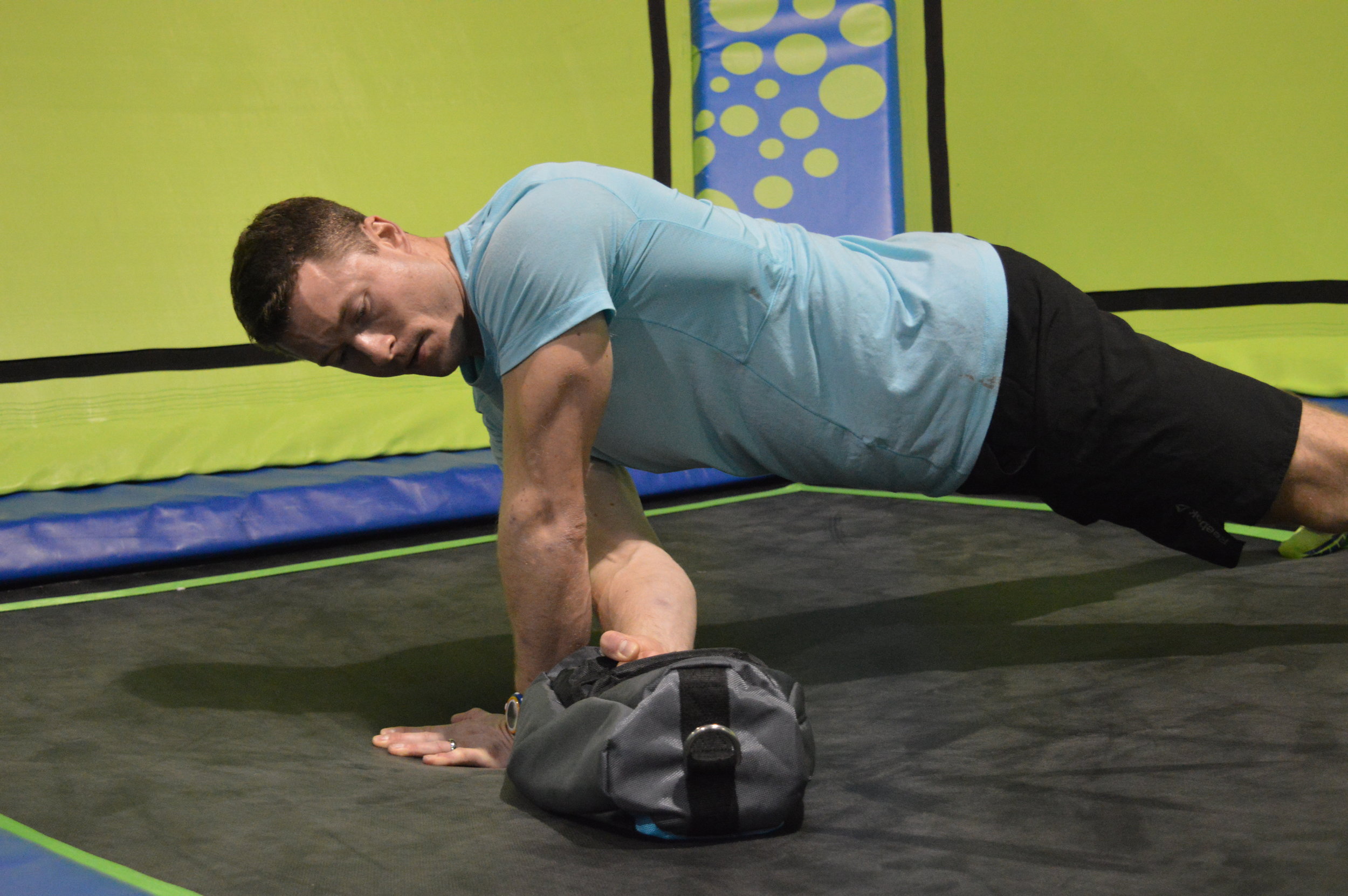 Calisthenics or body weight training has always been a part of Wild Training but when the concept of building on the success we have seen for years with the Parallettes came along in Urban Strength Training, we knew we were on to a winner.
Phone call to my brother Stew the engineer. Me - "Bro I need a bar"
Stew - "What size"
Me - "6ft, 38.1mm thick"
Stew - "I've got one here next to my desk"
Crazy but literally had a prototype thanks to my big brother the next week. It was on.
Through Physical Companies contacts I had the first Urban Strength Bar designed and produced. A simple 6ft bar that can be used for countless plank, upper and lower body exercises that can be linked together in fluid sequences. The Urban Strength Bar has transformed my fitness and every single person that has used it has been blown away by how versatile it is. A tool to develop strength, flexibility and balance all in one. You will never loot at a 6ft bar the same way again after your first Urban Strength Bar workout.
The best part about it is that the Urban Strength Bar makes calisthenics training accessible to everyone. That's how we have been able to incorporate it in to a lot of our group exercise classes, where we need to be able to create a lot of regressions and progressions to suit a variety of fitness levels. The Urban Strength Bar is being sold through Physical Company and we have already introduced some of the biggest gym chains to the Urban Strength Training system.
The Urban Strength Straps, a hybrid between a suspension system and Olympic rings is in the process of being designed. Elegant, simple, unbelievably versatile. Unmistakably a Wild Training piece of kit. Like the sandbag issue, we've never quite had the perfect suspension system, until the Urban Strength Straps.
2016 also saw the first Wild Training Academy set up. My old school had a gym running but it wasn't the most successful gym and my old P.E. teacher, now deputy head asked if I could help. We built a new building and started fresh. The concept. To deliver a facility that the students could use in the day and the community could use in the evening. Access to video training programs that would help members get the very best out of the equipment available. We are developing the Academy in to an apprenticeship program which is something I'm really excited about as I know Wild Training can give our apprentices an amazing start in the fitness industry.
Any other licenses coming? You know it.
Back in 2015 my wife and I started skating. Was part of her post-natal training plan… really it just felt like a lot of fun. Straight away we loved it but I was shocked at how good a form of cardio it was. No impact. Tri-planar forces so better body shape and less imbalances. Better for your posture than running or cycling. I had my heart rate at 190bpm. Last time I did that I was trying to kill myself on a spinning bike while I was qualifying as a personal trainer completing a range of fitness tests. Then a question hit me. Why don't more people skate for fitness. I put it out there and people seemed keen to join us.
Inline Fitness started with a lot of excitement. K2 make the most comfortable skates in the world and they now offer everyone that signs up to the Inline Fitness subscription a discount on skates through our shop partner Slick Willies. The Inline Fitness subscription is how we deliver nutrition support and interval programs to get people great results while having fun skating. I hope to grow the Inline Fitness community and get to the point where we can organise events to give people targets to train towards.
"Hey do you train younger people, like kids?". I've delivered fitness for kids since 2008. Lots of different systems but with Wild Training we started to nail it. Interactive, game style workouts that get young people in to movement. Key for us is making it fun and keeping every experience positive while teaching kids fundamental basics in how to keep healthy and fit. This isn't just for sporty kids. Wild Ninjas had to be fun for everyone. Our coaching concepts encourage a change in culture at home to help our communities become healthier at every level.
Wild Ninjas is one our most exciting exercise licenses. We can all talk about how everyone is getting less healthy. Blame sugar, fast food companies and everything else we read on the news. Or we can do something about it. Create a service that kids actually choose to do, that will have a positive impact on them physically and mentally and set them up with values that will keep them healthier all the way through their lives. Wild Ninjas is that service, and maybe one of the most important things Wild Training deliver.
2016 saw the big moment. The first Wild Training Gym. We closed the studio Hannah set up in 2013 and went for it. Standard Wild Training mentality. Go big or go home.
The Wild Training Gym is like nothing else out there. An open plan environment that allows our members to use the space to challenge their body in any way they want. Our facility only works because of our service.
10 hours of structured training for every person that joins to teach them how to use every bit of kit, and how to do cardio, physique and toning workouts. We also dedicate 1 hour of the free initial training to teaching our members how to warm up, cool down and correct posture imbalances. What other gym does that, for free?
The most diverse group exercise class timetable you can imagine. The most exciting personal training systems we have ever experienced. Free workshops every hour the gym is open to make sure our members always have support, without having to ask for it. They can walk in to our Wild Training Gym and use our equipment with programs that will really work, because that's what we teach them to do. No guess work. No copying the thing your mate is doing. Proper training that has been tested by us to make sure it's good enough for our members.
We are developing new licenses thanks to this facility. Groove and Grind step classes. Wild MMA will be one of the first credible MMA fitness licenses available in Europe. Pole Fitness classes. Wild Strong, strongman classes for all. Wild Aerial is where we use acrobatic silks to create the most exciting strength and mobility class I've ever done. Rock Conditioning is where we bring training concepts that have helped professional rock climbers build their insane power to weight ratios to our members to make training accessible and progressive for everyone.
Wild Training isn't slowing down. We aren't even cruising. We are accelerating forward with so much support from everyone that has been a part of the story so far. Family, friends, members, sometimes they are all of those things. Professional athletes like Jon Partridge were we supported him with his Rock Climbing. Andy Nudds with his snowboarding. Ben Gregory and Jess Tappin with their athletics. Helping people at every level has helped us build the systems we have today. All from our experience to make sure what we deliver works for everyone, no matter where they are starting. We assess where people want to be. Where they are starting from and use our systems to bridge the gap. No trial and error. Proven training and coaching that doesn't fail.
Nothing gets me more excited than thinking about the future for Wild Training. We are working hard to support the communities where we operate and have a lot of initiatives to work with local schools, charity groups and grass roots sporting organisations.
We want to reach more people, so with the launch of Wild Training Online, a free training subscription that delivers new body weight training programs and nutrition tips every month we should be able to do that.
We also have the new Wild In The Home subscription that will see people using our most effective equipment in their homes, or anywhere they want. New programs are delivered via our new online training platform that they can easily watch on a phone or tablet, and those programs progress every 2 weeks so the training grows as fitness levels improve. Detailed food plans are included with over 30 healthy recipes to start. The equipment allows us to deliver varied, goal specific training to everyone. It's like an exercise DVD that never gets old, because we never stop programming for you. The interest in Wild In The Home, and using it as a flexible corporate wellbeing strategy to get more staff doing effective exercise has been massive.
Most recent Wild In The Home sign-ups are Steve Backshall and his Olympic gold medal winning wife Helen Glover. Busy people need effective training systems that they can hit anytime so for them Wild In The Home is perfect. Watch out for the videos of these two training with Wild Training.
Wild Training will be one of the first Fit For All centres in Buckinghamshire, which means we are a credible place where people with physical disabilities, mental health issues or learning difficulties can come and exercise. This just doesn't happen in the fitness industry. Wild Training want to change that, and our actions show that we are doing something proactive about it. Make it fun, keep it effective and include everyone. Those are our values. Wild Training will continue to grow in the best way possible by sticking to them.
Hopefully you've enjoyed reading this. That is just the "One Wild Story" so far. If we did that in 6 years, imagine what the next 6 years are going to be like now we have nailed down what we are doing, who we are doing it with and how we are doing it. Might have a Wild Training Galactic program for people on space stations in the future. Everyone that knows me knows how scary that last sentence is, as they know I'll probably think of a way to make it happen!!!
Wild Training would be nothing without the people that I've shared the story with. There have been tough times but I always stick to my rules and so far, they have always gotten me out of trouble and where they have taken me to, feels like a lot of fun.
4 claws of Wild Training (my rules)
Love. Love people. Love caring. Love what you do in every moment of your life. Then you will love your life.
Passion. Passion is the most contagious type of energy. It is an unstoppable energy. Find yours, hold on to it, and use it every day. Do that and even when any rational person would give up, you will be able to keep going.
Courage. Be fearless. Believe in yourself absolutely. Never stop trying. Never, ever let someone else devalue, or try to take your dream away. Remember that the people that judge you for trying harder than they try, will be forgotten about.
Spark. The most important bit. Without spark, without taking initiative, taking something you think about, or something you talk about and making it something you do, nothing happens. Without Spark nothing becomes reality. Being first is the easiest way to win... at anything. Don't watch other people win, and do things you thought about doing because you lacked spark.
Attack life with Spark every day and make stuff happen. Use courage and passion to see it through, and always use love to make it great.
Use your Claws
#LiveAWildLife… always.