Since 2007 James has experienced a lot of what the fitness industry has to offer. This experience and his own creativity have helped him develop some of the most revolutionary functional training systems in the world today. Wild Training is made up of a training team that James hand picked himself, whom he trains with relentlessly to ensure the Wild Training standard of personal training and group exercise is unbeatable.
He has also developed the most exciting commercial gym group exercise licenses for years in BTB Exercise, Fit Squared, Wild Flow and more. He has also designed innovative equipment that is currently being sold commercially like the Titan Bag, Parallettes and Urban Strength Bar. Creator of the ATI Barbell, the first vibration barbell in the world that works at the same frequency as a Power Plate. James founded ATI Exercise.
Now being recognized as a leader in functional exercise programming James is a master trainer for Physical Company, who he is now developing new styles of equipment and programming with.
James will not sit still and will always look to improve... everything he is involved with whilst pushing the fitness industry and challenging conventional thinking. The Wild Training brand is currently involved with multiple national brands and all the Wild Training team are very excited about the future.
"Fitness is like art, and it's never black and white. Exercise can deliver so many different things to so many different people. When it's done right what you get is more than better health and a better look. It's a better quality of life. That's why I love what I do. It's about creativity and that creativity is endless because every single person is working towards an individual goal, from an individual starting position.
Runners want to run, lifters want to lift, sports fans want to play sports and stretchy people want to stretch. There isn't a perfect system and there isn't a right or wrong so learn about it all and share your passion. I got fit using the same systems that we use in Wild Training. Finding the best exercise methods and making them relevant and fun for normal people with specific goals. It started as a hobby and it became an obsession.
One thing that I've learned is it's always better to pull people towards their goals than to push them. Leading by example is at the core of everything I strive to achieve for myself, for my Wild trainers and for my clients.
Developing the other Wild trainers is something I'm very passionate about. The team is full of inspiring trainers that have an immense amount of fitness knowledge. We do more training and studying than any other group of trainers I've worked with. I believe that we have the ability to be the best trainers in the country and we aren't afraid of putting in the work to get there.
I don't base what I believe to be possible on what I have done before. I don't need to know that someone has achieved it before me to make me think I could try. If my imagination can see it, then I can try to make it happen. Trying and failing, or trying and succeeding. Either is enough for me. I can learn from both. I can't learn anything from not trying. If something is worth my time, its worth my best. Live without limits."
ONE WILD STORY - Read more of James' story here
James in the Press
People that train with James
"If you want to make first ascents of Himalayan mountains, or first descents of whitewater rivers, how much you can bench press is totally irrelevant; you need practical, focused training. Wild Training is exactly tailored to your needs, punishing, innovative and best of all outdoors - for me, it's the perfect physical training regime."
Steve Backshall , TV Presenter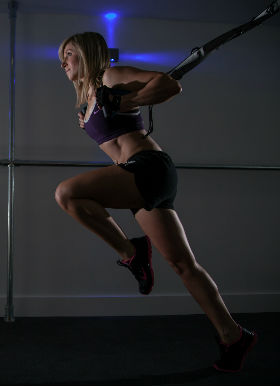 "James Griffiths, is considered one of Britain's most formidable expert fitness trainers with extensive industry knowledge and experience. His advice and support has been invaluable during the production of the Adrian James series of fitness apps. Thank you James, you have become a great friend and mentor. I truly appreciate all your advice, training tips and the time you have shared with me."
Adrian James, Fitness Model
"Training with James Griffiths at Wild Training was some of the toughest most intense exercise I have ever done. The results from such short high intensity sessions was amazing. His 'tri-planer system' helped to develop specific strength across to my Decathlon events which I believe was a huge factor in my speedy recovery from a shoulder injury that had held me back all season.
The ATI system he created is a great workout. the challenging movements and variation in the sessions build functional strength whilst developing great cardio vascular improvements. I would recommend James, Wild Training and the ATI Exercise system to anyone, but be warned, it's one hell of a workout!"
Ben Gregory, GB Decathlete and Fitness Model
"I have been a member of the British Climbing team for 6 years and I specialise in a discipline called Bouldering. It is the purest and most elemental form of climbing done without ropes or harnesses over distances of around 5 metres above crash pads.
The walls often feature steep overhanging surfaces, which force me to use highly technical movements across every plane of movement. With this in mind the key elements to be a successful boulderer are not just finger strength but also core, power, flexibility, strength, endurance.
When I started working with James my development was plateauing and I was routinely suffering from various injuries. James quickly identified that the cause was down to some fundamental imbalances that had accumulated over years of focussed sports specific training.
We set out an intensive training regime to target these weaknesses and the results have been fantastic. My progression, passion and enjoyment for training have been reinvigorated and more importantly I have seen a significant reduction in my injuries and my performance has improved.
The way I train has been changed forever."
Jon Partridge, GB Rock Climber